Release Notes For 3.5.11
New or Improved from KDE 3.5.10
This section highlights some of the most useful improvements to the Trinity system.
KDE3 development has been handed off to the Trinity project, and all of the Trinity code is now in a KDE SVN branch, from which packages are built on a regular basis. Many bugs have been fixed and new features have been added; a partial list follows.
Back End Improvements
The Trinity source has been modified to build with the latest versions of GCC (gcc v4.4 at release time). Additionally, compatibility with the newest versions of external shared libraries has been added.
Run Dialog
The Trinity run dialog has finally been given proper filesystem autocompletion, in addition to the standard history-based autocompletion.
System Tray Enhancements
The System Tray icon size is now configurable, per the applicable Free Desktop specification. NOTE: While most, if not all, Trinity applications now support resizing, many third party applications do not. If you encounter an application that displays incorrect images at system tray sizes other than 22x22 pixels, please report that as a bug to the original application developers, not the Trinity project. Due to the way system tray icons are handled in X11, there is nothing the Trinity project can do to alter this situation.
Remote Folder Synchronization
Konqueror now includes an add-on to synchronize a directory to a remote server using a simple SSH connection. The user can choose to push changes to the server, pull changes from the server, or perform a bidirectional synchronization. Manual conflict resolution is supported when using bidirectional synchronization.
ICC Support
For the Linux graphical artist, or someone with a new LED-based laptop screen, Trinity now contains built-in ICC color profile support. The specified color profile is loaded by KDM on system startup, and is easily changed from the K Control panel.
Additionally, ICC support has been updated to allow for multiple profiles and automatic application of specified color profiles to individual display outputs. This is perfect for users with laptops and external monitors; simply switch monitors and your color profile is automatically applied!
Task Manager
It is now easier than ever to access the task manager when a program is running amok. Simply right-click on an empty area of the taskbar and select Launch Process Manager!
Custom K Menu Icon
The Panel has been updated to allow for a custom K Menu icon, optional user-defined text in the K Menu button, and a configurable number of recent documents
KPDF
One-click PDF rotation has been added.
KCPULoad
Now supports an arbitrary number of processors, not just two as in the past
KNetworkManager
KNetworkManager has been significantly rewritten to handle the new NM 0.8 backend, as well as incorporate several UI enhancements and true VPN support
KRandrTray
KRandrTray now allows switching of the video output device; this is especially useful for business laptops and presentations The display switch key sequence (Fn+F7 on most laptops) will cycle through available output devices by default; however you can reconfigure the key sequence to use as shown below:
SmartCard Support
Trinity now contains a utility that allows the use of a SmartCard? for KDM logon and screensaver lock/unlock. It also provides time-management functions and will even switch to the users existing graphical terminal on multi-user systems on card insertion!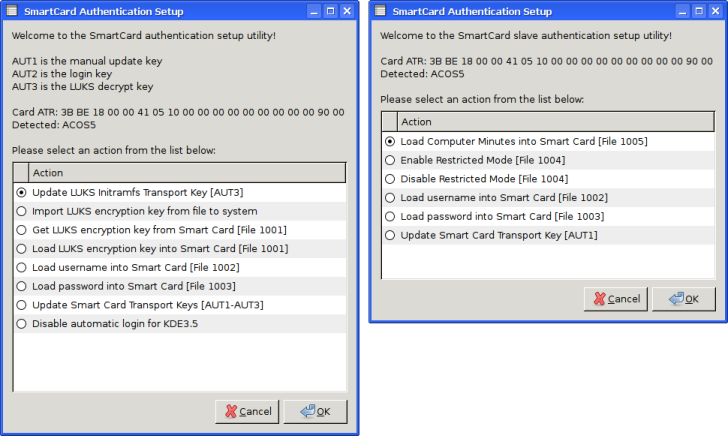 KControl
All KInfoCenter modules have been moved to KControl in order to provide a central location for system configuration information.
KDE4.x compatibility
Trinity can be installed alongside KDE4.x with no problems. Trinity automatically detects and adjusts for KDE4.x programs, so that users can easily run KDE4 applications from within the Trinity environment.
Assisting the Project
If you are interested in helping out, please contact:
Timothy Pearson
A Bluetooth developer who could re-activate Trinity's Bluetooth functions would be greatly appreciated!
Known Issues
None at the moment.
Mailing List
There is a mailing list for Trinity users available here: http://trinity.pearsoncomputing.net/mailing_lists This is a great place for users to share tips and tricks, and you can also sign up to receive announcements related to Trinity.
Feedback
We want to hear what you think about the current release of Trinity. We want to know if it Rocks, if it is just OK, or if it is flat out wrong. No matter the feedback, as long as it is in line with the FOSS Code of Conduct, we would like to hear it.
So what are you waiting for? Head on over to the Feedback Page and let us know!